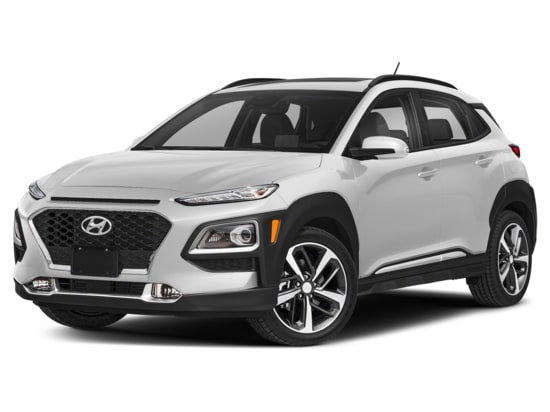 Subcompact Only in Size
This two-row subcompact SUV features spacious seating for up to 5 on cloth upholstery. You can add extra features like a power-adjustable driver's seat, leather upholstery, heated front seats, and even a leather-wrapped steering wheel. If you choose the Hyundai Kona Electric you can even have options like ventilated front seats and a heated steering wheel.
The fun doesn't stop there with the 2019 Hyundai Kona. You'll get a standard infotainment system on a 7-inch touchscreen display. Additional standard features include two USB ports, Android Auto, Apple CarPlay, Bluetooth, and a six-speaker stereo. Upgrades include an 8-inch touchscreen, navigation, and a premium Infinity sound system. No matter how far you go from home you'll love how enjoyable the sporty and fun Hyundai Kona is.
A New All-Electric Kona
The new-for-2019 Hyundai Kona Electric brings you a 150-kW motor that brings you 201 horsepower. The transmission is a single-speed, which might sound strange to you, but it makes sense when paired to an all-electric motor. Since an electric motor provides the maximum torque possible at zero RPM, you don't need to have a disconnection from the drivetrain to allow the engine to idle. Electric motors also feature a wider RPM range than a combustion engine, and the electric motor actually provides the best RPM over a range of speeds. There's more to it than just that, but no matter how much you read about it, you have to drive the Hyundai Kona Electric to appreciate the performance and energy of this SUV.
When you're ready to get your new 2019 Hyundai Kona, come see us here at Winn Hyundai of Santa Maria! We'll make sure you get the perfect one for you, along with the right financing or lease option your budget will thank you for.